Baked Goods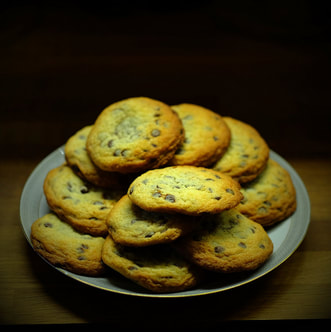 ​Our selections vary daily, but may include the following...
Muffins....1.50-3
Apple Turnovers....2.75
Cookies....1 ea/ 5 (1/2 dozen)/ 9 (dozen)
Brownies & Bars....2.50+
Gluten-Free Chocolate Chip Cookies....1.50 ea/ 7.50 (1/2 dz)/ 14 (dz)
Almond Macaroons....7 (1/2 dz)/ 12 (dz)
Biscotti....1.50 ea/ 6 (1/2 dz)
Coffeecake & Quick Bread Loafs...9
Assorted Cake Slices....prices vary
Individual Crisps....3.50






---
**We offer seasonal specialties and our selections vary daily...stop by, call or check Facebook**
Please allow a minimum of 48 hours notice for most orders, but may require more depending on business levels. We are a small, scratch cafe and occasionally do book out on holidays and other times of the year.
We no longer offer cakes.
Prices subject to change based on certain ingredients or specialty orders.
Beignets...6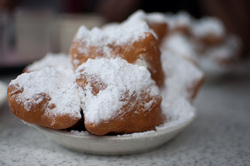 On Saturdays, we offer fresh, piping-hot beignets, fried to order. Each order consists of 3 pillowy "donuts" coated in powdered sugar and served with a dipping sauce. Choices of dipping sauce include chocolate, caramel or honey. Stop in early or call ahead as these treats tend to sell out quickly! If you have ever tried a beignet, you'll know they're totally worth the trip. *only offered on Saturdays*
---
Beverages
Smoothies...5+
Real Fruit blended with low-fat yogurt, honey & juice...no syrups, fake ingredients or extra sugars!
Strawberry
Orange Pineapple
Mixed Berry
Power (blueberry, pineapple, banana & chia seeds
add banana....+50
add spinach/kale....+75
add chia seeds....+75
Hot Beverages
12 oz

Hot Coffee....1.75
Hot Tea....1.75
Hot Cafe Latte....3
Hot Cappuccino....3
Hot Chai Tea Latte....3
Hot Mocha Latte....3.25


16 oz

Hot Coffee....2.25
Hot Tea....2.25
Hot Cafe Latte....3.50
Hot Cappuccino....3.50
Hot Chai Tea Latte....3.50
Hot Mocha Latte....3.75

Cold Beverages
16 oz

Iced Coffee....2.25
Iced Tea....2.25
Iced Cafe Latte....3.50
Iced Chai Tea Latte....3.50
Iced Mocha Latte....3.75
Lemonade....2.50
Half & Half (aka Arnold Palmer)....2.25


20 oz

Iced Coffee....2.75
Iced Tea....2.75
Iced Cafe Latte....4
Iced Chai Tea Latte....4
Iced Mocha Latte....4.25
Lemonade....3
Half & Half (aka Arnold Palmer)....2.75

add flavor +50
add espresso shot +60
add almond milk +60

Monin syrup flavors...caramel (sf also), vanilla (sf also), hazelnut (sf also), almond, coconut, pumpkin spice, maple spice, raspberry, peppermint, macadamia nut, cinnamon, toasted marshmallow, cherry, blueberry, apple, toasted marshmallow, tiramisu, toffee nut

Assorted Bottled Beverages...Pellegrino Sparkling & Pellegrino Flavored Sparkling, Poland Springs, Coke, Diet Coke, Juices